Not A Number Cards & Gifts is the retail operation of Not A Number, Inc. Not A Number, Inc. is comprised of the Head Cheese, and Number Six. Our goal is to provide an entertaining, educational, enlightening shopping experience. We aim to have items that make you smile, laugh and think!
We are involved in our community, and are committed towards working for a better planet/future for all of us.

The Head Cheese served as President of the Wallingford Chamber of Commerce for five plus years, and is a past board member of the Wallingford Senior and Community Center, and a current board member at large for the Fremont Chamber of Commerce.
Number Six served as Vice President of the Wallingford Community Council, treasurer of the Washington State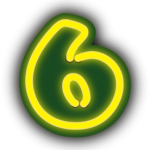 Progressive Party, steering committee member of the Main Streets Alliance of Washington and founder of the community savings program, WallingfordSaves.
After time away from Seattle, spent caregiving the Head Cheese's grandmother in Colorado, the Head Cheese and Number Six are looking forward to reviving Not A Number, Inc. and being involved in the Seattle community.
For those of you who wonder about the origin of the name,
"That would be telling".